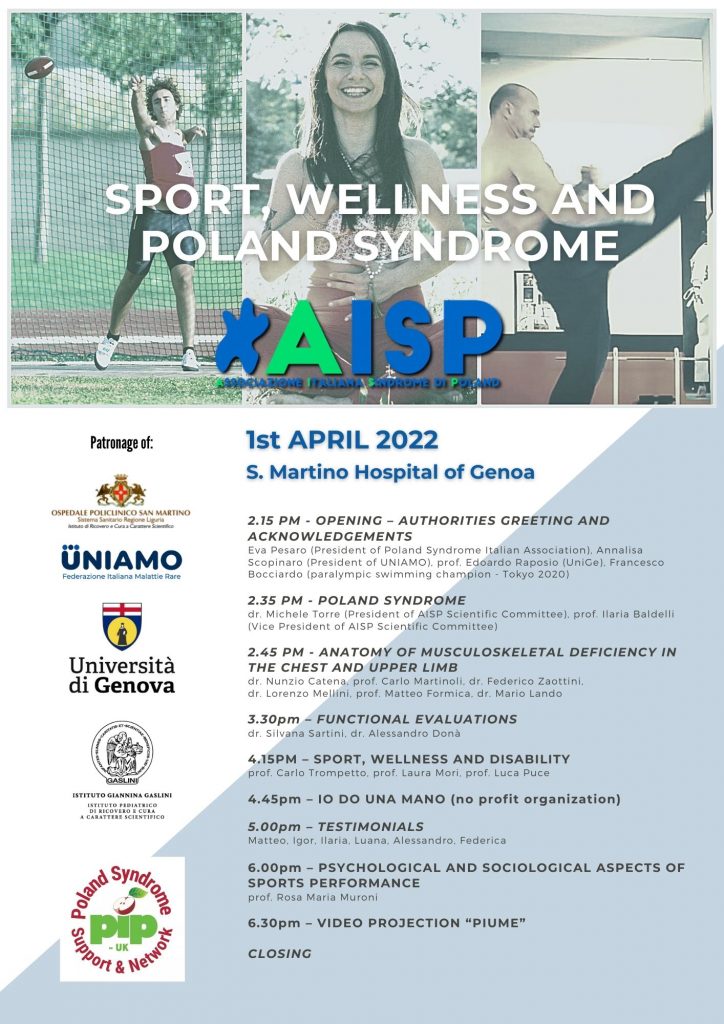 SPORT, WELLNESS AND POLAND SYNDROME: this is the theme of the next AISP event dedicated to children and adults to be held on 1 April 2022 starting at 2.00 pm at Simon Boccanegra Castle, San Martino Polyclinic Hospital in Genoa
With the patronage of: S. Martino Hospital of Genoa, Uniamo Italian Federation of Rare Diseases onlus, University of Genoa, Gaslini Institute of Genoa.
Sport is recognized as an excellent tool for the integration of minorities and groups at risk of social exclusion. The SPORT WELLNESS AND POLAND SYNDROME event, organized by the Italian Association of Poland Syndrome (AISP), aims to evaluate the risks and benefits of practicing sports in people with Poland Syndrome, a rare disease that affects the muscle-skeletal system of the thorax and upper limb. There will be interventions by specialists in the orthopedic, physiatric, neurological, radiological, psychological and medical-sports sectors as well as the story of the personal experiences of some patients.
If you too are a person with Poland syndrome and you practice some sport at a competitive / amateur level or you deal with wellness, write to segreteria@sindromedipoland.org to share your experience with us!
SPORT, WELLNESS AND POLAND SYNDROME
APRIL 1ST, 2022
SCHEDULE
2.15pm OPENING – AUTHORITIES GREETING AND ACKNOWLEDGEMENTS
2.35pm – POLAND SYNDROME
2.45pm – ANATOMY OF MUSCULOSKELETAL DEFICIENCY IN THE CHEST AND UPPER LIMB
3.30pm – FUNCTIONAL EVALUATIONS
4.15pm – SPORT, WELLNESS AND DISABILITY
4.45pm – IO DO UNA MANO (no profit organization)
5.00pm – TESTIMONIALS
6.00pm – PSYCHOLOGICAL AND SOCIOLOGICAL ASPECTS OF SPORTS PERFORMANCE
6.30pm – VIDEO PROJECTION "PIUME"
CLOSING